I have been home in Singapore for about 12 days now.
And Piers just had a phone conversation with his mum, in which she had asked whether he had heard from me at all after I left, to which he had simply said, "Yes."
Understatement of the year!
He had neglected to tell her that we're in contact, like, 12 hours a day, every day.
=D
We Gtalk for 10 minutes when he wakes up in the morning (7 am his time, 2 pm my time). An hour later, we're on MSN, chatting periodically while he's at work. That lasts for nine hours.
We get on Gtalk video once he's home (5:30 pm his time, 12:30 am my time) and we video chat for three or four hours before I go to bed.
A few times a day, he calls me on the phone and we talk for 10 minutes or so.
Well, okay, it's not like that every single day. Sometimes I'm out for appointments and we can only text each other occasionally. And sometimes he's busy at work and I'm also busy blogging or something.
It's really hard missing someone.
So, I've planned my next trip to England already. Next month! =D
Mosaiced the details in case got stalker. But I guess it's easy to find out, anyway, lol.
Piers insisted on paying for my ticket, so he booked the flight for me after we finished discussing dates.
It's surprisingly cheap for British Airways. Direct flight for $1556! (Thanks to Elyxia for the tip!) That's almost the same price I paid for Qatar Airways with a stupid stopover at Doha Airport, which is not too bad to wait at, but a huge pain transferring from airport lounge to plane cos it's so damn far away.
Anyway, Piers was booking my flight in his office and we were chatting through MSN, both of us very excited about having a firm date to look forward to now.
Like stupid lovestruck teenagers.
And then, after he was done booking it, he sent me the eticket number in MSN.
The next thing, he was, like, "WHAT IS THIS?!?!?"
A big parcel I had sent him from Singapore had arrived at his office the very moment he completed the eticket transaction!
Oh, I forgot to take photos of his presents, but I had sent him an Angry Birds stuffed toy and an iPad 2 case.
He Plurked it, though, so there's one lousy photo.
Piers' Plurk photo: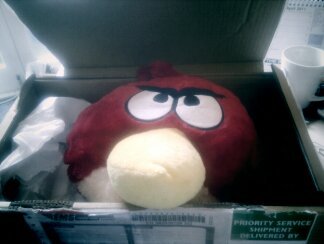 I couldn't find any third-party iPad 2 cases in England. So stupid right? Singapore doesn't even have the iPad 2 yet but our stores are overrun with cases for them already.
I hate the iPad 2 Smart Cover. It's so ugly and stupid and doesn't protect the back and makes you drop your iPad on the floor cos the cover is attached by magnet. Regret buying it.
I got Piers an Angry Birds stuffie because he's a big fan of the game and also because he had complained about having nothing to hug after I was gone home.
I have Nemo.
I had made Piers buy him for me in Disney Baby Paris so I would have something to remind me of him. =P
Angry Bird will come in handy when I'm in England and need something to throw at him when he's being naughty.
(I think he might throw it at me first for posting our embarrassing MSN conversation here. I'm so evil. =P)
Am planning to be in England for a total of six months this year and that means two more separate trips after this May-June one!
Piers can only come to Singapore once, and maybe for only about three weeks, because he's got more binding work commitments.
Can't wait!
=)